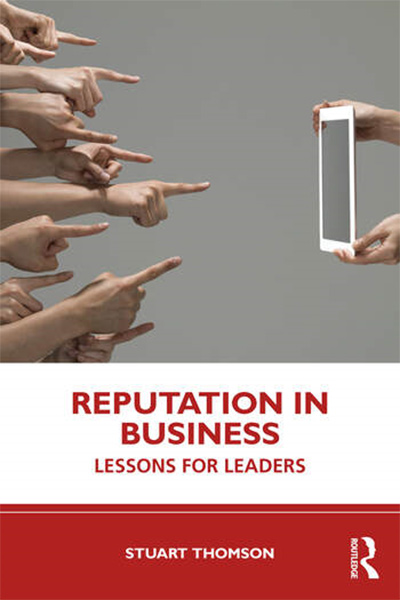 Whether you are the CEO of an international business, a politician with power or a high-profile celebrity with millions of fans, reputation matters. Here to offer advice on building, maintaining and, where needed, rescuing reputation in business is BDB Pitmans' Stuart Thomson in his new book Reputation in Business: Lessons for Leaders.
Read on for which businesses are getting their comms right, how to handle a reputational crisis and what leaders can learn from Lizzo.
Can you introduce your new book?
The book, Reputation in Business: Lessons for Leaders, aims to be a practical guide to building and protecting reputations. A lot of leaders recognise the vital intangible asset that reputation represents but too many don't really understand what reputation is and the steps that should be taken to build it. So, this is my effort, drawing in the valuable experience of others, to deliver that sort of practical guide.
What inspired you to write it?
I've always enjoyed reading books about communications partly to keep myself up-to-date on the latest trends and ideas but also because I find the issues really interesting as well! I find it fascinating to learn from the experience of others. There is no doubting the importance of reputation management in so much of what we do in communications but I thought that while many books were great on the theory, they were less good on 'and here is what you should do'. That was my inspiration!
Having written other books I had a good idea about what would be involved and the time needed so I spent my evenings and weekends writing. Luckily, I have a very understanding family!
Have your experiences with blogging helped with writing a full book?
I think so. It has helped me to develop a style which is not too formal but also allows me to convey information as well. Regular readers of the blog seem to enjoy that and the book is very much is the same style.
Blogging also focuses you. In a blog you don't have the amount of words available to go off on too many flights of fancy. You need to show the challenge and convey some ideas and advice. The book follows that same sort of style.
What were the main challenges with writing the book?
Covid, covid, covid. On the one hand it meant that there were plenty of examples, good and bad, to help me illustrate the critical role of reputation management. But on the other, working from home all day during lockdown and then sitting at the same kitchen table in the evening to spend time on the book was a bit tough.
Add to that the ramifications for the publishing sector and it could have been that I had written a book that no one would ever get to read. Luckily, I have a fantastic agent in Matthew Smith and a wonderful team at Routledge who have all helped get it ready for publication.
With reputation particularly important now, and gauging tone-of-voice in comms difficult in light of current events, which brands, businesses or high-profile figures do you think are getting it right?
Very few get it right all the time. I admire the ones who get it right most of the time but also those who, when they make a mistake, move quickly and learn from it. All organisations and individuals need to be constantly vigilant as well. Anyone who thinks they can sit back and take a reputation for granted will, sooner or later, come unstuck.
Just look at some of the brands that seem to have made some very strange decisions during the period of mourning for the Queen and around her funeral arrangements.
I mention in the book, the way in which Liverpool Football Club (which I support) made some terrible decisions during Covid but took quick and decisive action to reverse them. Critically, the leadership took personal ownership of the decisions as well.
With crisis management a key part of reputation, could you name some examples of great crisis comms from the last few years?
Many organisations have plans in place to deal with a crisis so it is surprising that many still manage to get their reaction wrong.
But I think the real issue is those who do not plan properly to stop the mistakes from happening in the first place. Just look at someone normally as sure-footed as Beyoncé. She used an ableist slur in one of her songs only shortly after Lizzo had done the same. Lizzo recognised her mistake, apologised and re-recorded the song. For Beyoncé to make the same mistake very shortly afterwards is poor. Lizzo handled her crisis well.
On the corporate side, I think the pharma companies have done a good job in counteracting the misinformation over the Covid vaccine. It has been more of a 'slow and steady' type of campaign and they have had to work with a wide range of audiences but the outcomes have benefited us all.
On the subject of business leaders with reputations that perhaps need better management… what advice would you give to a high-profile figure like Elon Musk for rebuilding their reputation in the eyes of the public?
Some leaders love their persona so much that they seem not to believe that they ever make any mistakes. It doesn't appear that they take advice because they have complete faith in their own abilities. That takes a very special type of personality.
Building a reputation in the first place is about recognizing your weaknesses and then taking action to address them. Only then can you start build relationships with the audiences that really matter. And that doesn't always mean the general public.
Were there any subjects/topics that you would love to cover in a follow-up/didn't have room for in this book?
Well, drum roll, I've already been planning my next book and Routledge have kindly agreed to publish that one as well. The Company and The Activist: Going Beyond PR will look at how activist and community groups interact with businesses. It is early stages but I'd be happy to talk to those with a view on these issues.
Which tomes have really helped you in your career in public relations/public affairs – are there any books (apart from your own, of course) that you would recommend those earlier on in their careers to read?
In terms of public affairs, I think Lionel Zetter's books are always worth learning from and he has a great writing style as well. But also check out Conor McGrath, Erik Akse, Milos Labovic and Anders Kopp Jensen. But I would also say that there are a number of good podcasts out there as well so learn from wherever you can.
Then one of my favourites on reputation management is The Reputation Game by David Waller and Rupert Younger. That is one that I keep returning to.
For more from Stuart Thomson, check out his recent guest post on what Prime Minister Liz Truss's leadership will mean for public affairs.